Posted by Woodland Whimble Companion, Stafford the Tiny Tree Frog · May 17, 2012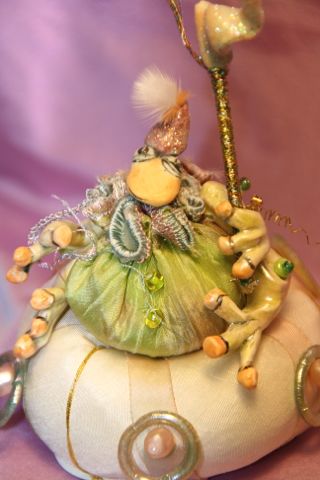 Thump thump thumpetty thump! Thump thump thump thumpetty thump! Thump, thump, swoosh!
"Ouch!" the frog rubbed his head.
"Stafford! What in the world are you doing?" Annabelle called out from the kitchen where she was baking toothsome treats.
"I was trying to jump onto my writing chair to complete The Whimble Diary post, but I did not jump quite as high as I needed to. And, well, I bumped my noggin."
"Okay, Staffie. Be careful. Here's a bit of ice for your head."
Stafford placed the ice pack on his head, tied it under his chin in a very neat bow, so it would stay put and began writing.
"Miss Daphne the Hillside Whimble paid us a visit recently. Annabelle, Gillian, Miss Daphne and yours truly all gathered for afternoon tea in The Working Garden. We had a grand time."
"That morning I arrived at Annabelle's cozy cottage very early. I helped her and Gillian with the baking so I not only help my friends, but I also 'taste test' all of Annie B.'s delicious sweets."
He sighed happily remembering shortbread cookies, chocolate croissants, scones, clotted cream and raspberry jam, jasmine tea and rosy lemonade. His little tummy growled. It was almost lunch time. He was hungry from his writing. However, Annabelle had not finished preparing their lunch so he continued to write.
(to be continued from The Sweet Pea Whimble Cottage in The Working Gardens - Caelumen )