Posted by Manning the Woodland Whimble; Patios photographed by Martha Young McQuilkin; lamb from Boxwoods, Atlanta, Georgia · Jul 27, 2014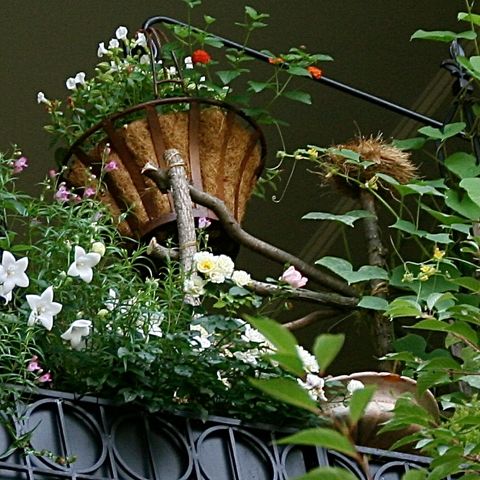 Our window boxes grew rapidly this June. When Sophie and Staffie added three moonflower vines and two passion flower vines, trellises were needed. The metal tuteurs on each Patio were simply not going to be enough to support all the plant material.
Sweet Pea Whimble, Annabelle, had an answer. She flew in and out of the vines in her Thimballoon while her Companion, Gillian the Tiny Field Mouse, took measurements. Gillian kept measuring, muttering away to himself, "One length here, another there."
The following weekend 36 three foot sapling trunk lengths were bundled on the two Patios along with sturdy twine.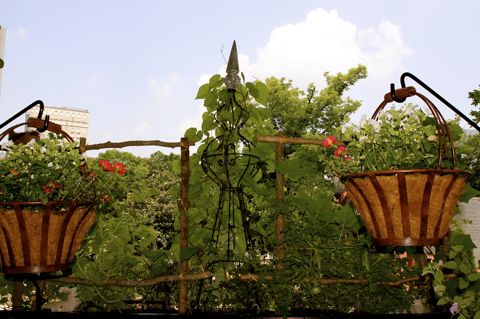 Soon the first of four unique whimsical sapling trellises was installed. It took many of us an entire five hour afternoon to complete all four. We used 27 of the three foot lengths.To celebrate, Orchid Whimble twins, Rudi and Sasha, planted a tiny cardinal vine seedling near each of the sapling posts. Sophie and I added one nest on top of each trellis. We wonder which birds they might attract.
Now, every vine has room to grow including the tomatoes and cucumbers. Late each afternoon the moonflowers open. They are magical at night facing the moon. Stafford climbs into one after another to breathe in the baby powder-like scent. Each morning he carefully places a delicate passionflower or cardinal vine tendril on the trellises to ensure their upward growth.
Miss Martha and Master Jock's Australian Terrie, Noelle, has become good friends with Tomasino the Lamb. They have early morning conversations most days. Noe thinks his fern and jade back is simply wonderful. Do you? (la fin from The Whimble Patios, Midtown Atlanta, Georgia, USA - Earth)